At Bellphoria, our focus is your wellness. This is why, in addition to our aesthetic medicine services, we offer treatments from a medical spa to optimize your results or relax a bit.
Rest is essential for our health, as it prevents early aging, improves our memory, and helps maintain good spirits and energy, among other benefits. Leaving the stress of day to day with our massages is simple; you just have to let us take care of you. We have a variety designed to release tension wherever you need it most: From back and neck massages that will make you feel entirely relaxed to techniques explicitly applied to tone specific areas of the body and even release muscle knots.
Your body will not be the only one spoiled: We also have an offer of facials made with the latest technology, belonging to globally recognized brands. Whether you want to deeply cleanse your skin, hydrate it or eliminate imperfections, at Bellphoria, you will find the facial you are looking for. They are created with the perfect blend of natural ingredients and active formulas to leave your face plump, bright, and rejuvenated.
Providing you with exceptional, comfortable, and top-quality service is our commitment. Our facilities are the perfect balance between luxury and modern with natural and revitalizing.
Med Spa in Bellphoria, your best option for relaxation and health in Tijuana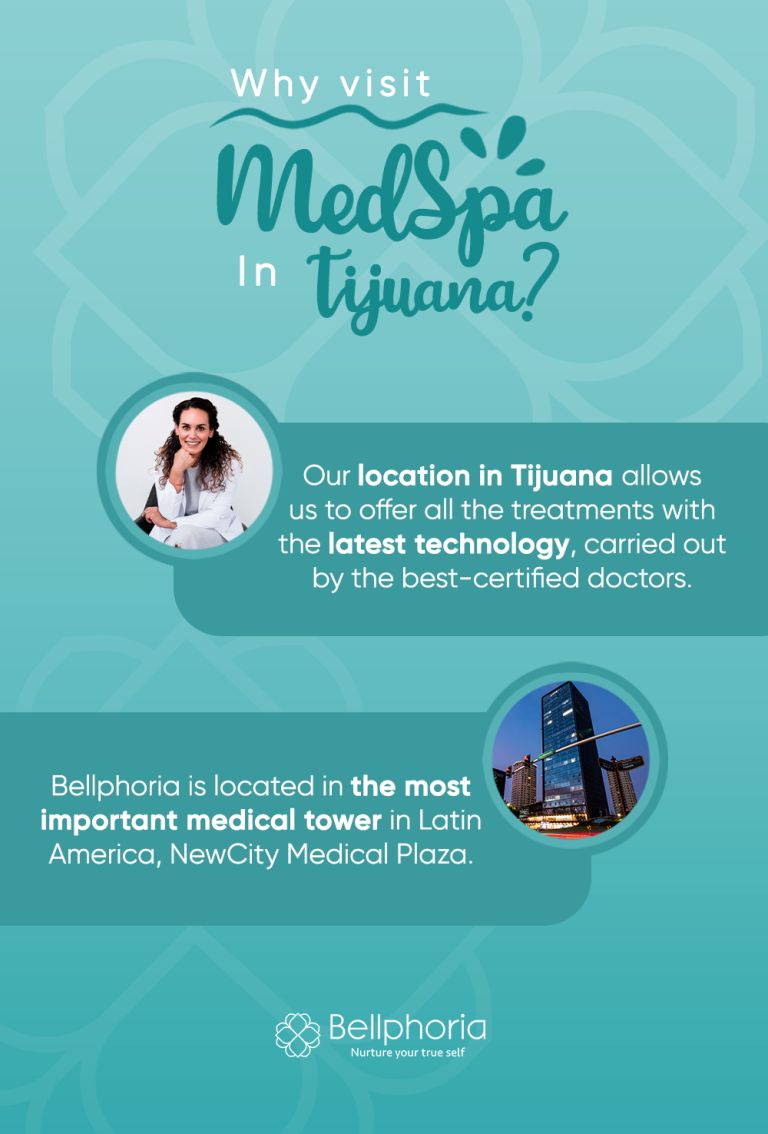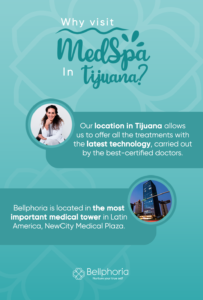 Our location in Tijuana allows us to offer all the treatments with the latest technology, carried out by the best-certified doctors, at a fraction of other countries such as the United States.
Operating under the highest quality and hygiene standards, Bellphoria is located in the most important medical tower in Latin America, NewCity Medical Plaza. A luxury complex that houses clinics, hotels, restaurants, pharmacies, and operating rooms (among other amenities) allowing the patients to find everything they need in one place. Just 5 minutes from the border between Mexico and the United States, and 10 minutes from the international airport.
At Bellphoria, we want to help you enhance your natural beauty, putting the best-specialized doctors in Tijuana at your disposal to become the best version of yourself, with the certainty that you will live a unique, comfortable, and safe experience.
About The Author: Bellphoria Team
Bellphoria is a comprehensive beauty and wellness clinic where you will find the best dermatology, medspa, aesthetic medicine, plastic surgery, and bariatric surgery procedures in Tijuana to enhance your natural beauty.