You may have heard about "Medical Tourism," but do you know what it means? It consists of traveling to another city or country to receive health treatments; this type of activity, is globally popular because it offers the same quality of medical services that the patient would receive in their country of origin, but at a much lower cost.
Why Tijuana?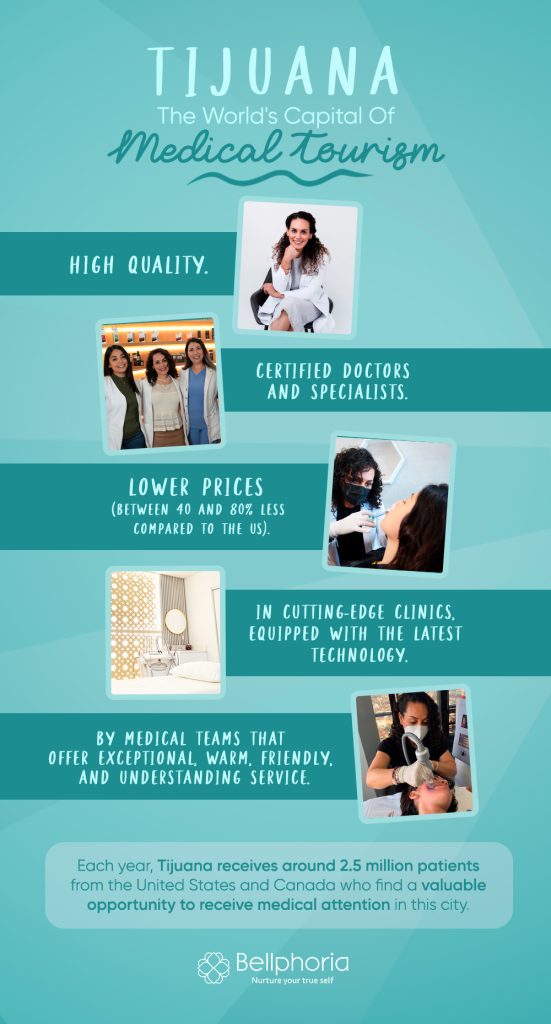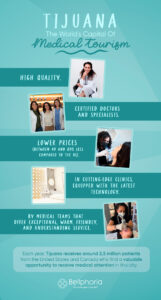 Each year, Tijuana receives around 2.5 million patients from the United States and Canada who find a valuable opportunity to receive medical attention in this city, thanks to its benefits:
High quality.
Certified doctors and specialists.
Lower prices (between 40 and 80% less compared to the US).
In cutting-edge clinics, equipped with the latest technology.
By medical teams that offer exceptional, warm, friendly, and understanding service.
Medical tourism in Tijuana continues to grow, in large part due to the increasing limitations of medical insurance in the United States; many of these have stopped providing or including certain services that would otherwise have exorbitant costs.
Tijuana has become the favorite venue for thousands of foreign visitors. They trust and benefit from the region's great medical offer both for its affordable prices and for the variety of packages that include lodging and transportation.
At Bellphoria, you'll never be far from home
Bellphoria will become one of the most important dermatology, aesthetic medicine, bariatric surgery, plastic surgery and hair transplant clinics in the region, thanks to its proximity to the border and, above all, for providing a wide range of medical treatments with excellence, passion, and commitment.
Bellphoria gathered specialized and recognized doctors in their fields, supported by a medical team distinguished by the kindness, attention, and care they provide to each patient.
Operating under the highest quality and hygiene standards, Bellphoria is located in the most important medical tower in Latin America, NewCity Medical Plaza. A luxury complex that houses clinics, hotels, restaurants, pharmacies, and operating rooms (among other amenities) allowing the patients to find everything they need in one place. Just 5 minutes from the border between Mexico and the United States, and 10 minutes from the international airport.
At Bellphoria, we want to help you enhance your natural beauty, putting the best-specialized doctors in Tijuana at your disposal to become the best version of yourself, with the certainty that you will live a unique, comfortable, and safe experience.
About The Author: Dr. Salvador Medina
Plastic Surgeon
Dr. Salvador Medina Sánchez is a plastic surgeon with more than 18 years of experience.
Professional License: #3535285
Specialty License: #5461078